Book the perfect fitness class on-the-go
Design Exercise, Time: one week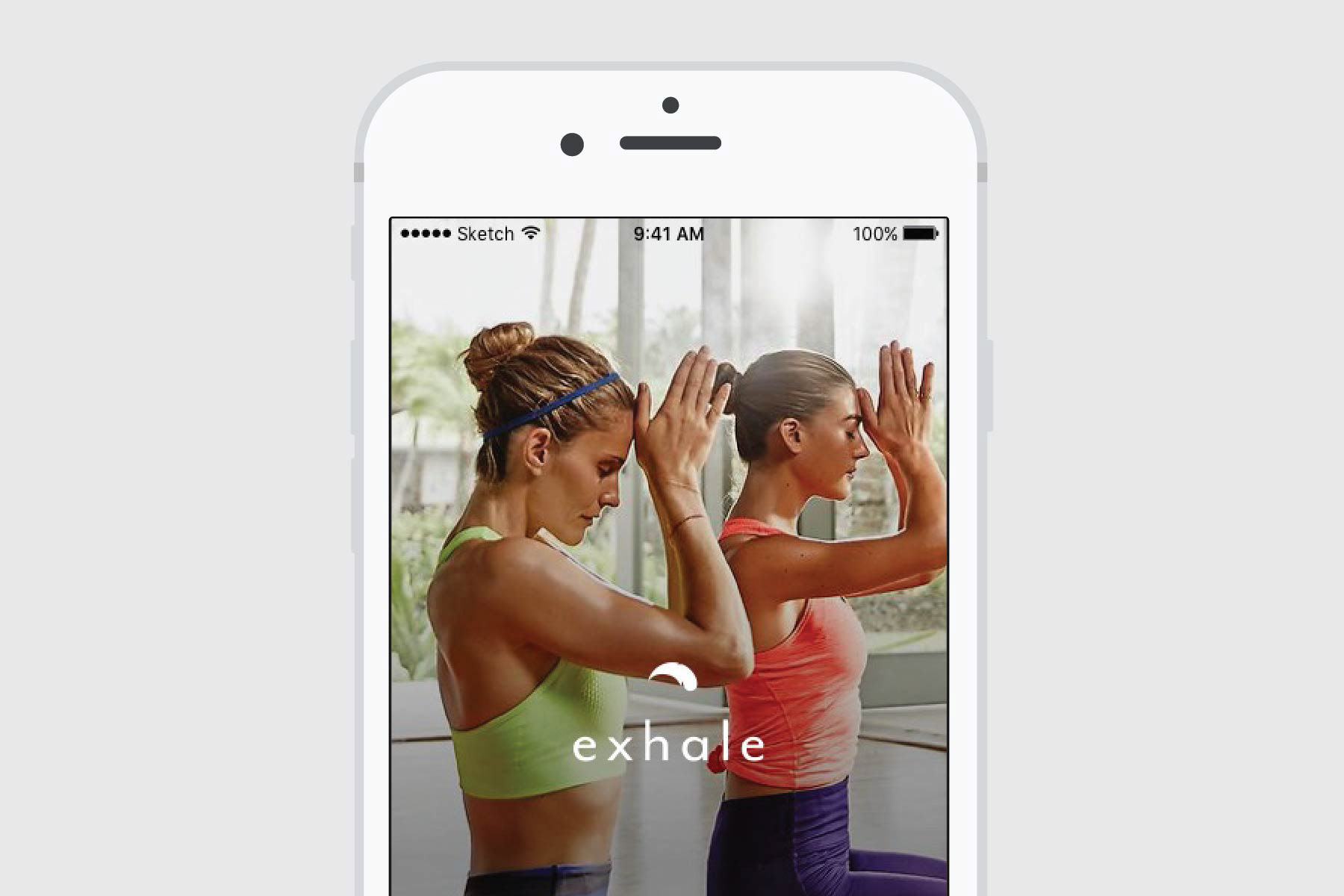 Project overview
As a design exercise, I created the concept and design for Exhale, a mobile application for finding and booking the best yoga, pilates and barre classes on-the-go without monthly fees or usage limits. 
The Problem
Anyone who has ever booked fitness classes knows how clunky and frustrating the experience is. Class-goers deal with pain points like remembering several username password combinations, time-consuming flows and mobile-unfriendly websites. In addition, some fitness apps and studios require users to purchase and commit to a plan or membership before you can even book one class. This leads to a barrier to adoption, as well as a longer and unfamiliar on-boarding process for users accustomed to booking classes on studio websites.  
There is a need for a service enabling users to book on-demand fitness classes quickly and easily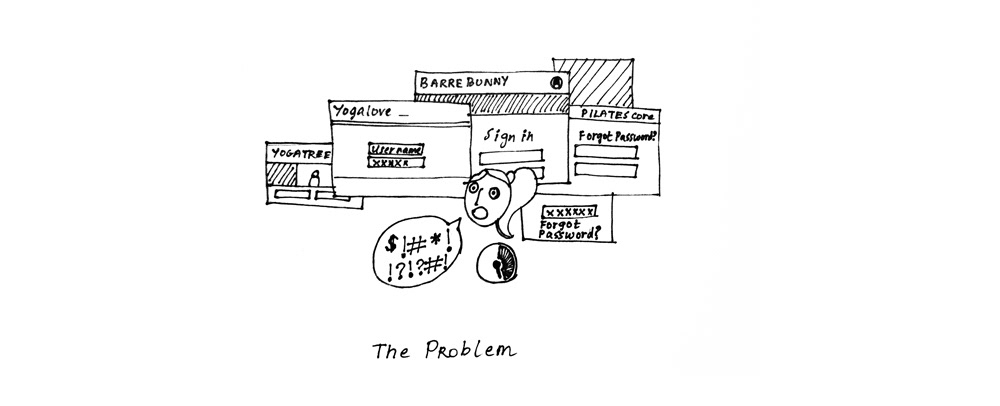 User Profile 
Susan is a 28-year-old architect working in San Francisco for a boutique firm. Weekdays are supposedly a 9 am - 6 pm affair, but she finds herself leaving the office at 9 pm a few times a week too - weekdays can be unpredictable. Her evenings are a blur of rush-hour commute, last-minute dinner/drinks plans with friends, while trying to squeeze in a quick hour of exercise. She likes to run, but has a major soft spot for yoga, and loves the studios that have juice bars.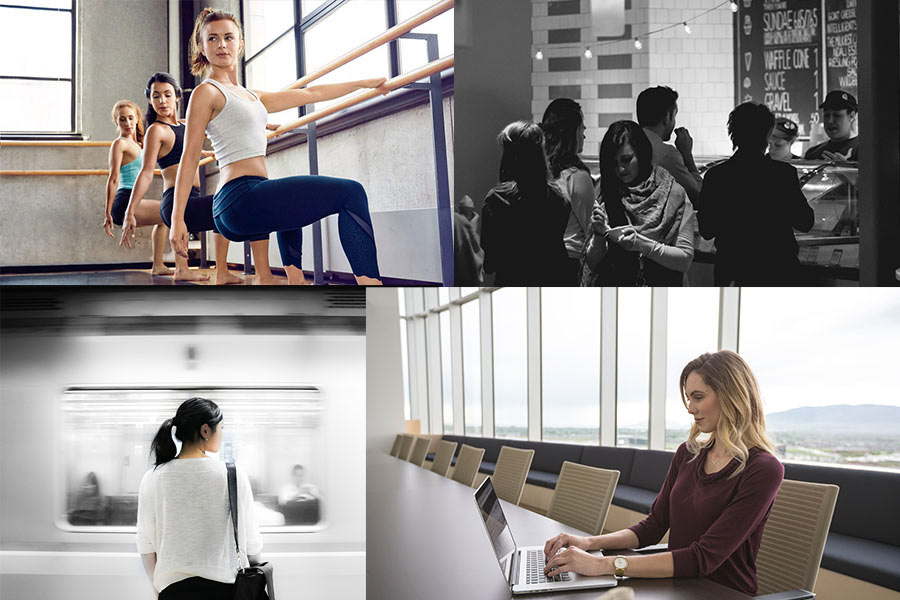 Why Yoga, Pilates and Barre?
As a yoga practitioner, I wanted to design an app for booking yoga classes easily. After researching the market, I found that many yoga studios also offered pilates and barre classes. I also found that people interested in one of these workout types are highly likely to be interested in the other two as well. They also offer overlapping benefits in improving flexibility and core strength.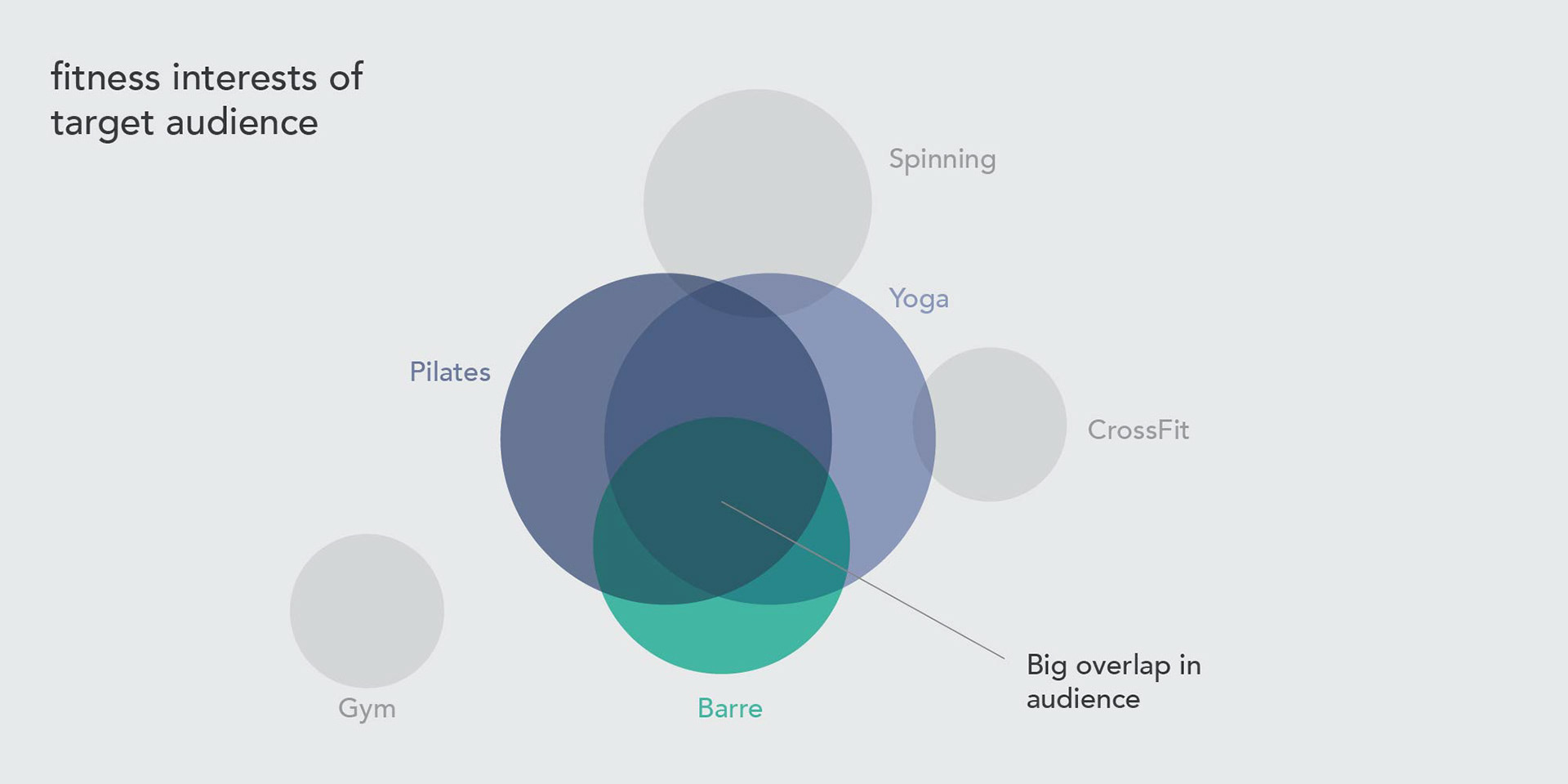 Enabling users to find classes as quickly as possible 
Reducing the number of choices a user has to deal with helps them make a decision faster. I took a few steps to ensure that users could find high quality classes quickly: 
1)
Fast and short on-boarding
- get started on finding classes as soon as you sign up. 
2) Narrowing down the type of workouts available to Yoga, Pilates and Barre - 3 related workout types with an overlapping audience. 3) Instead of a laundry list of every studio around, the app offers a
curated list of top, popular Yoga, Pilates and Barre studios
. Additionally, because only top-rated studios are offered, users can spend less time reading reviews to help them make a choice.
"A user will take as much time to make a choice as there are choices".  
- Alan Cooper, UX guru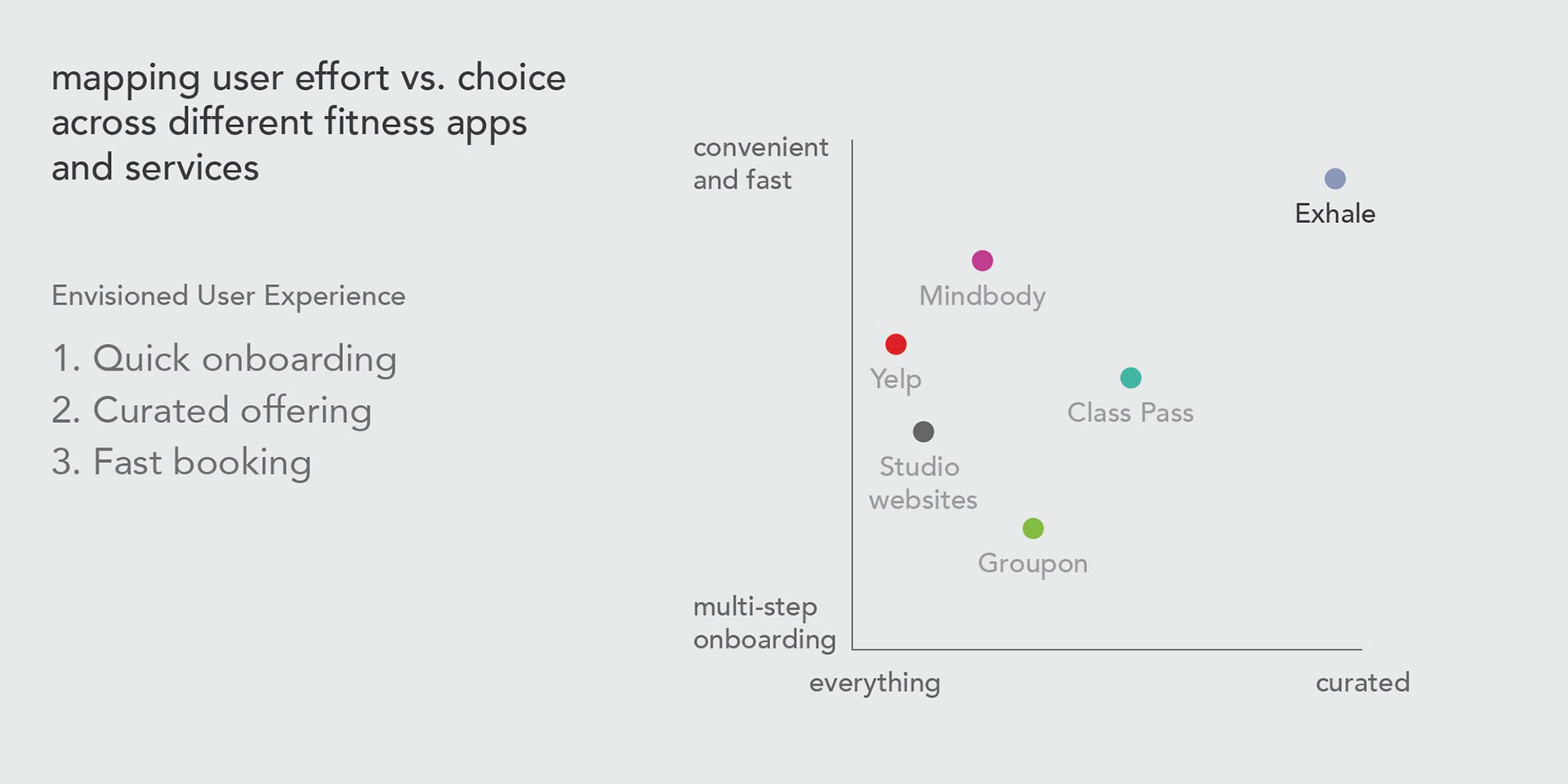 User Journey + Wireframes
The process of finding and booking a class is represented by the User Journey map as 4 steps.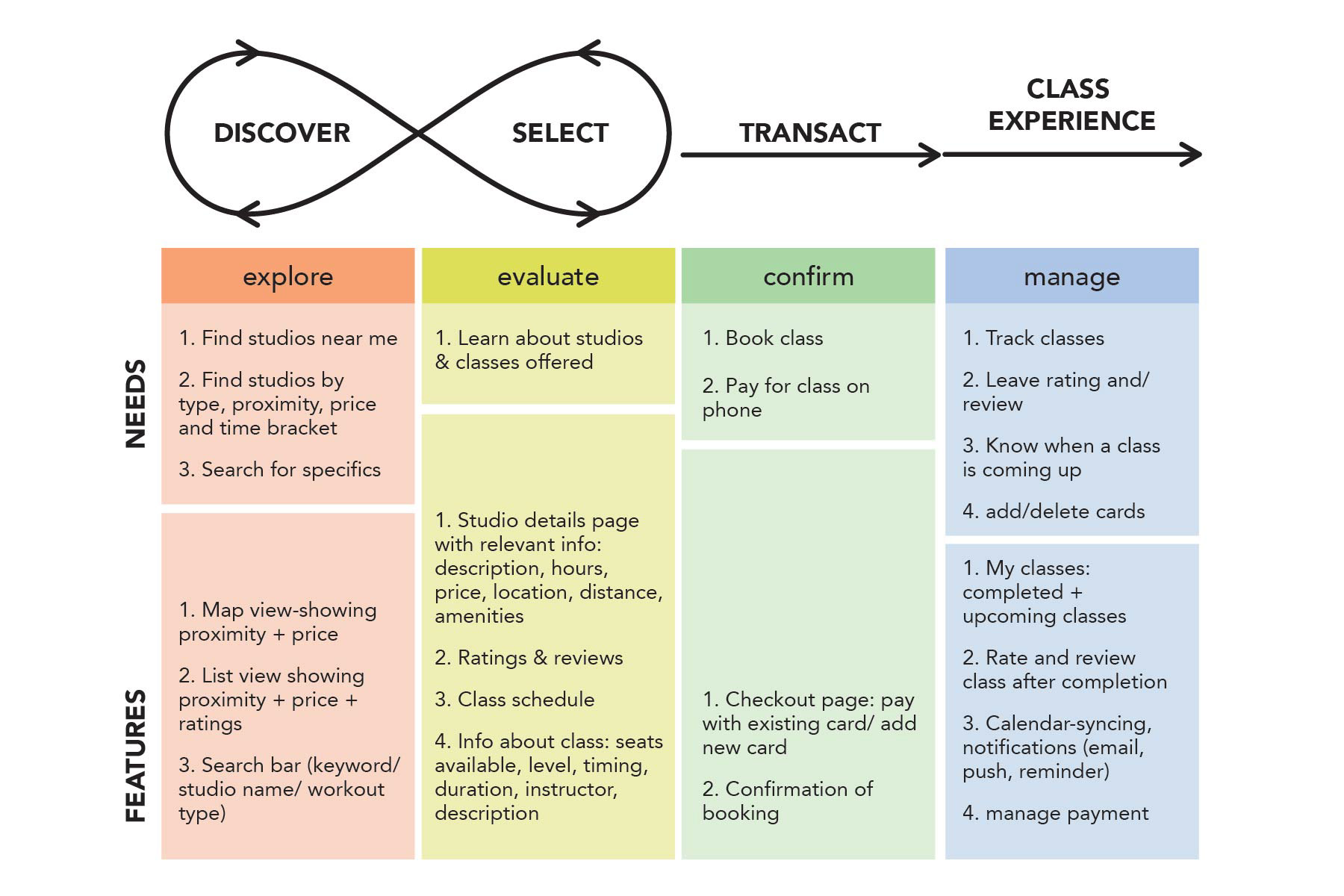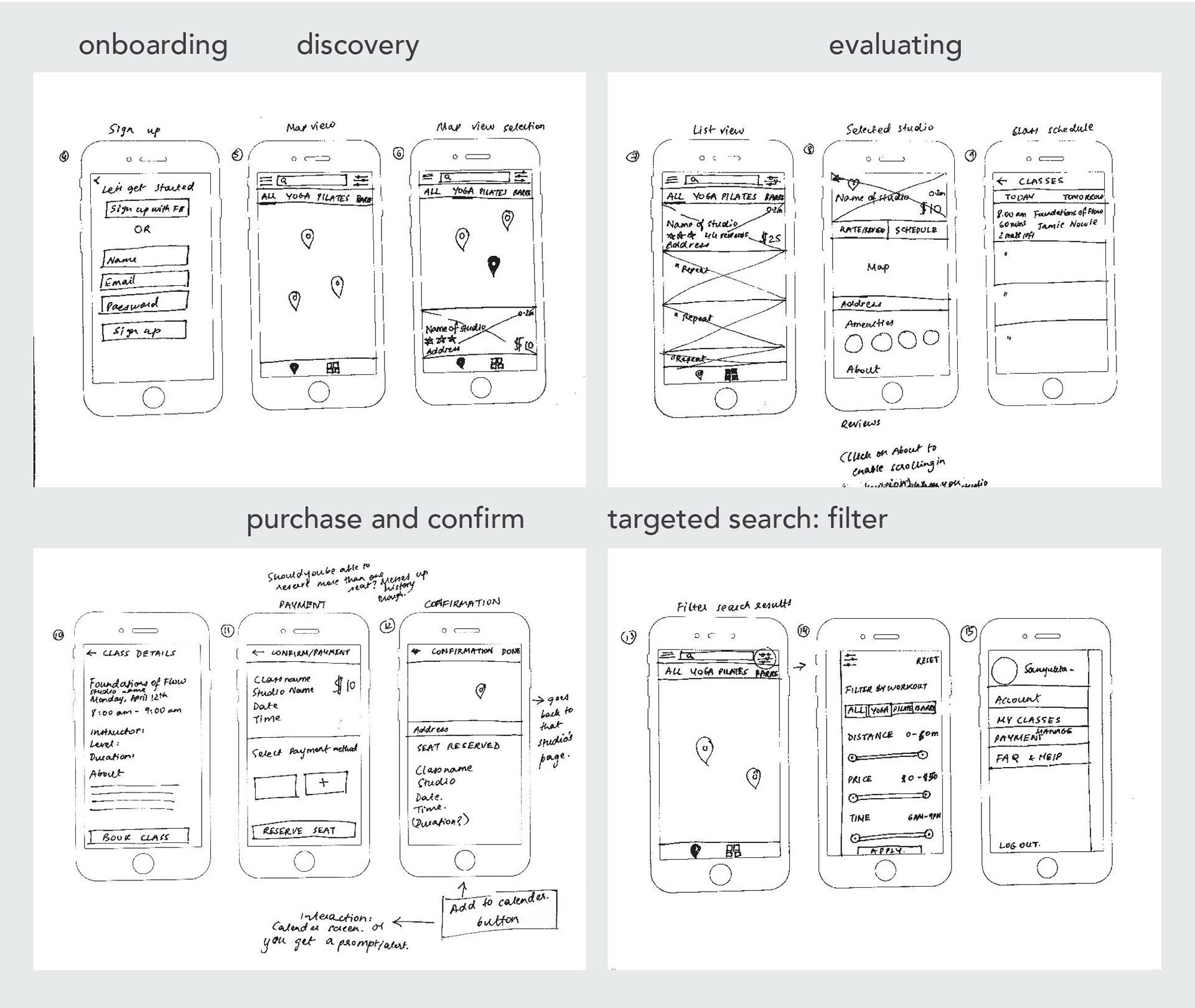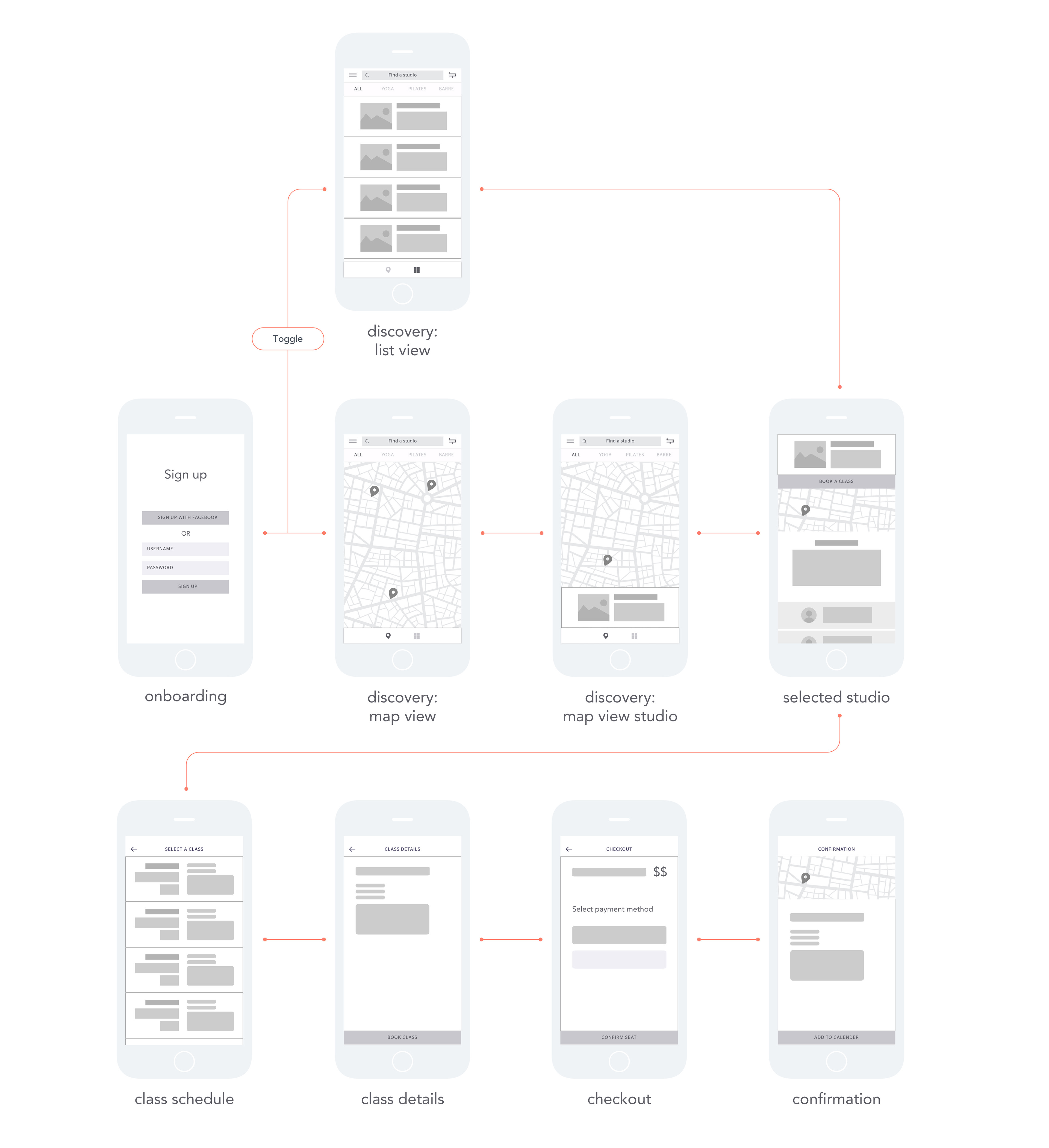 Demo walkthrough of app, interactions and details of key screens.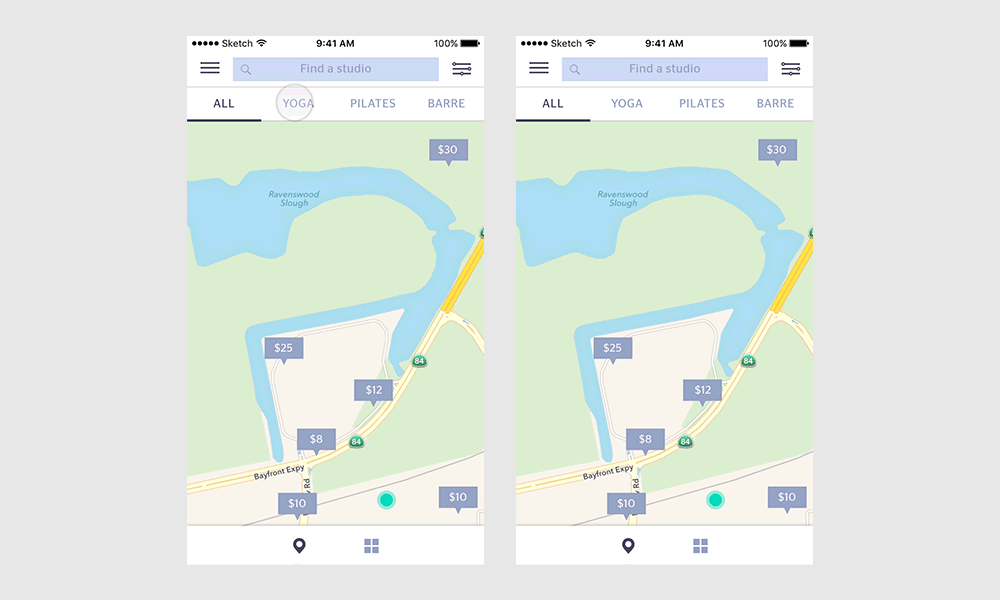 Discovering different studios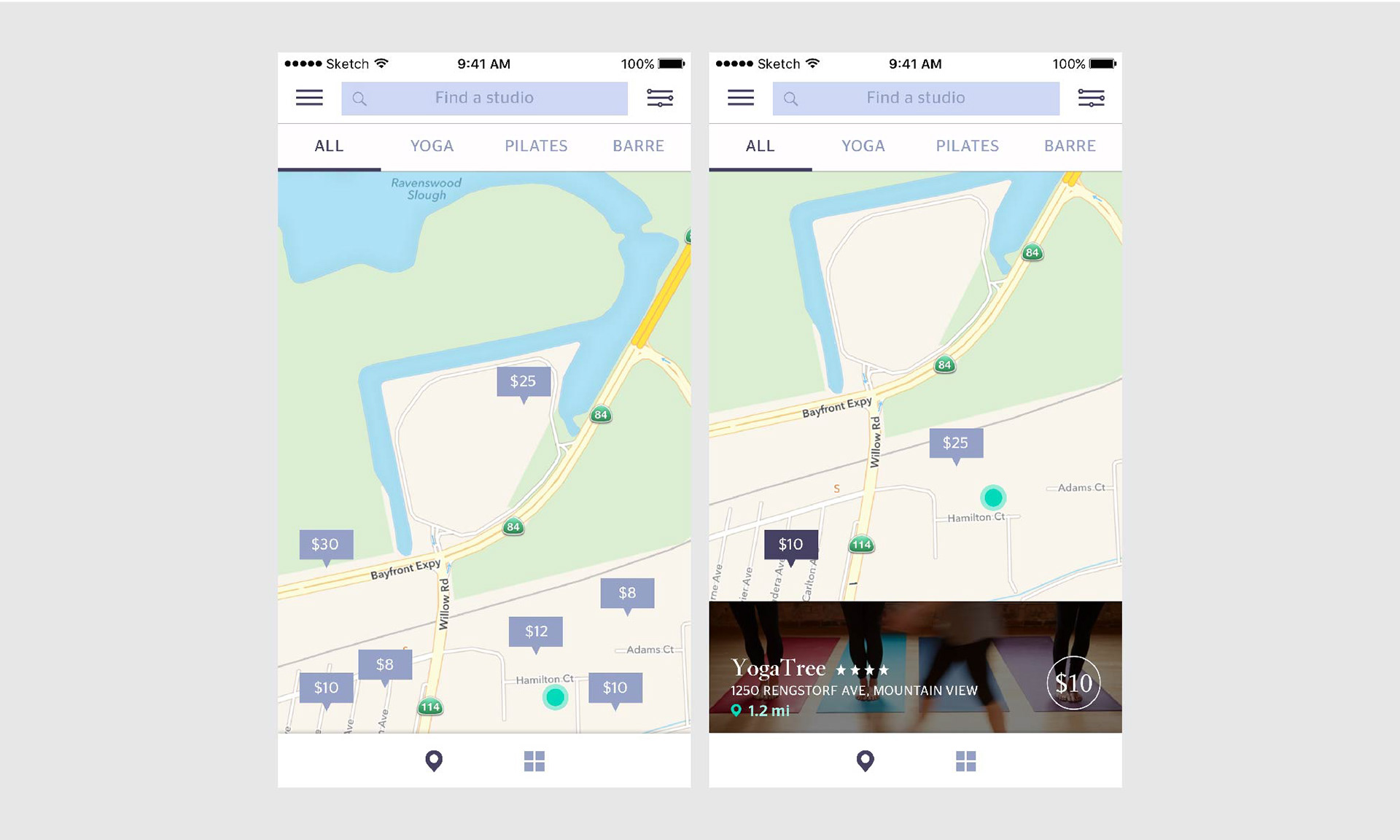 Targeted search using filter or search bar. Constraints for the filter were set by drawing from research on typical studio opening and closing times, average prices for walk-in classes for different types of workouts within Yoga, Pilates and Barre and a distance range that is suitable for an on-demand model.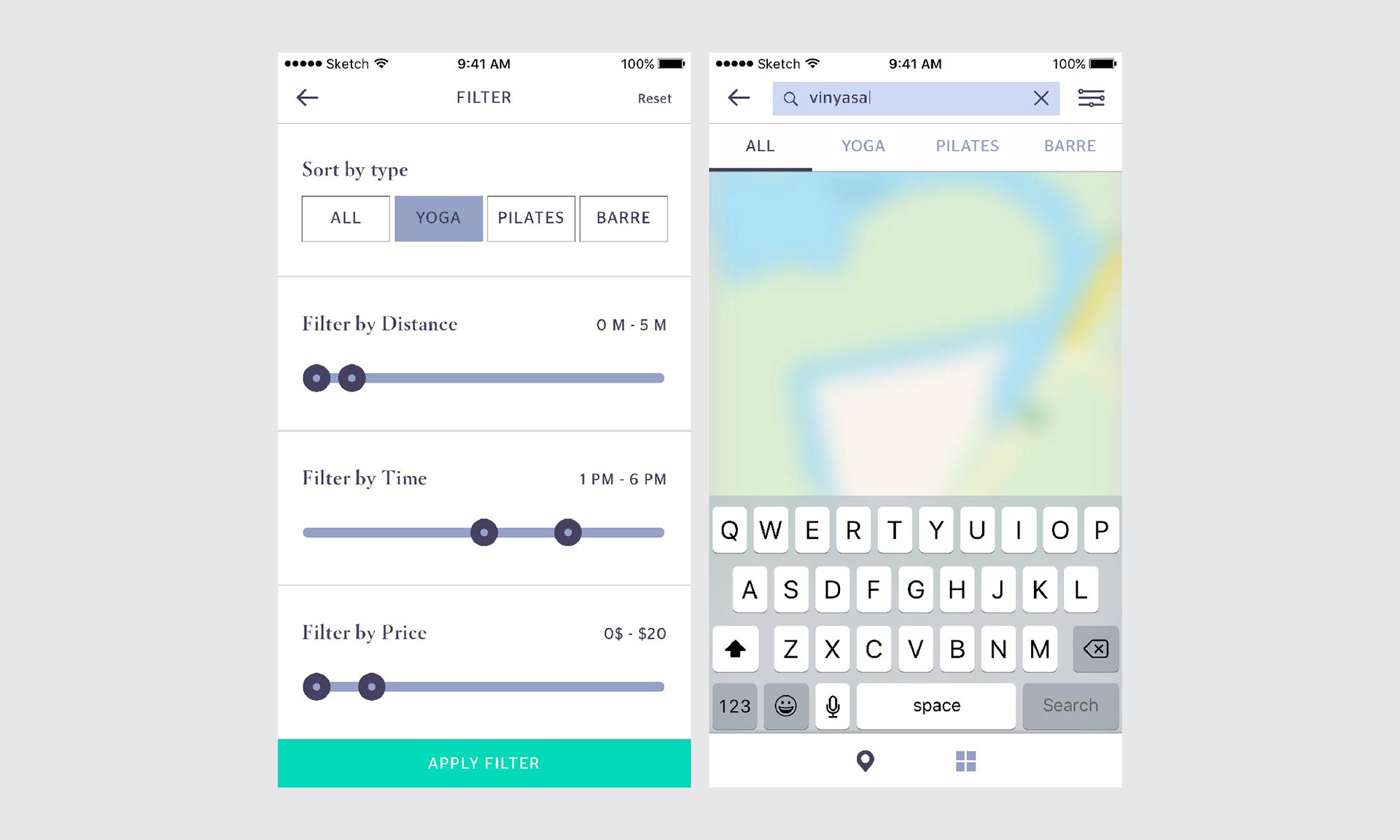 Evaluating a studio and classes offered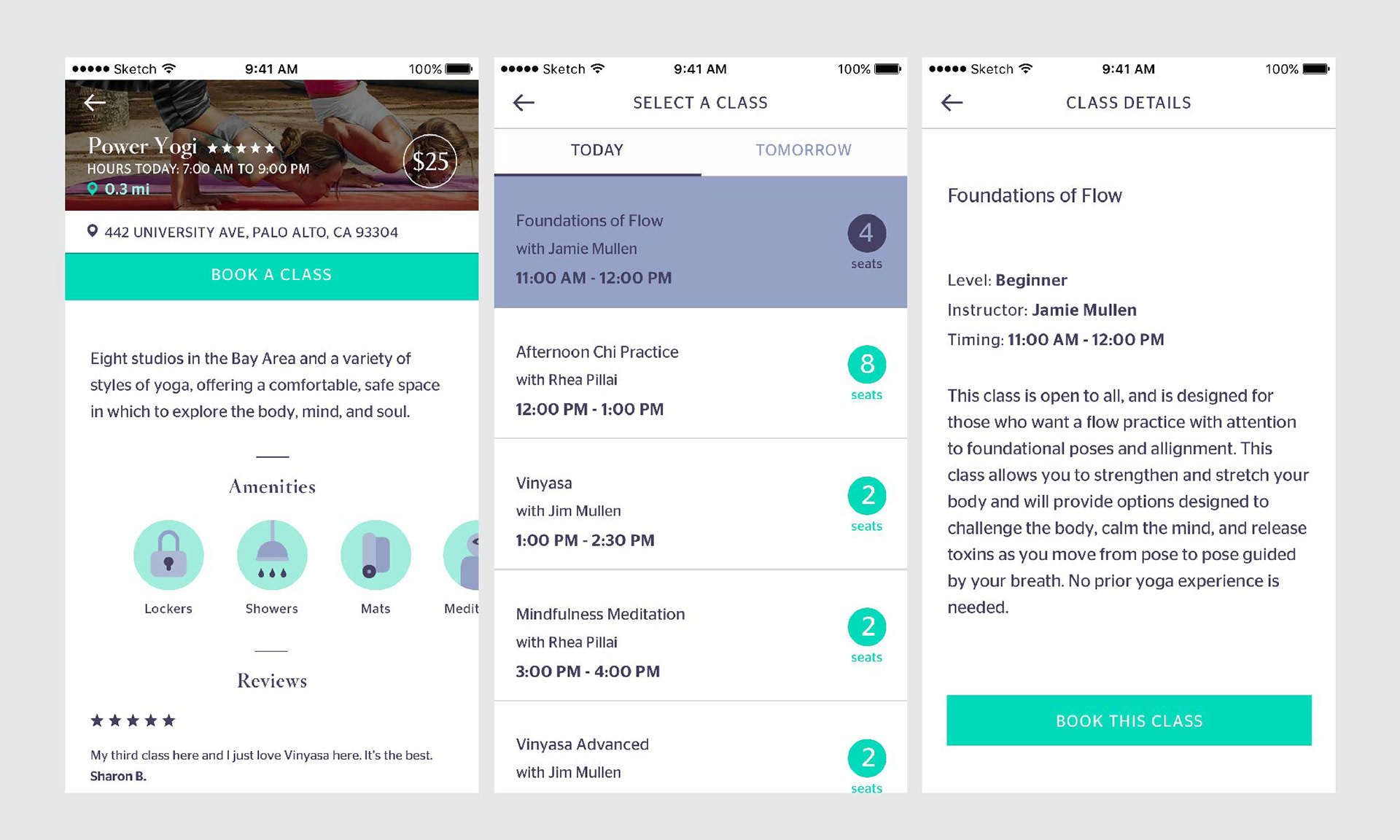 Managing classes and class experience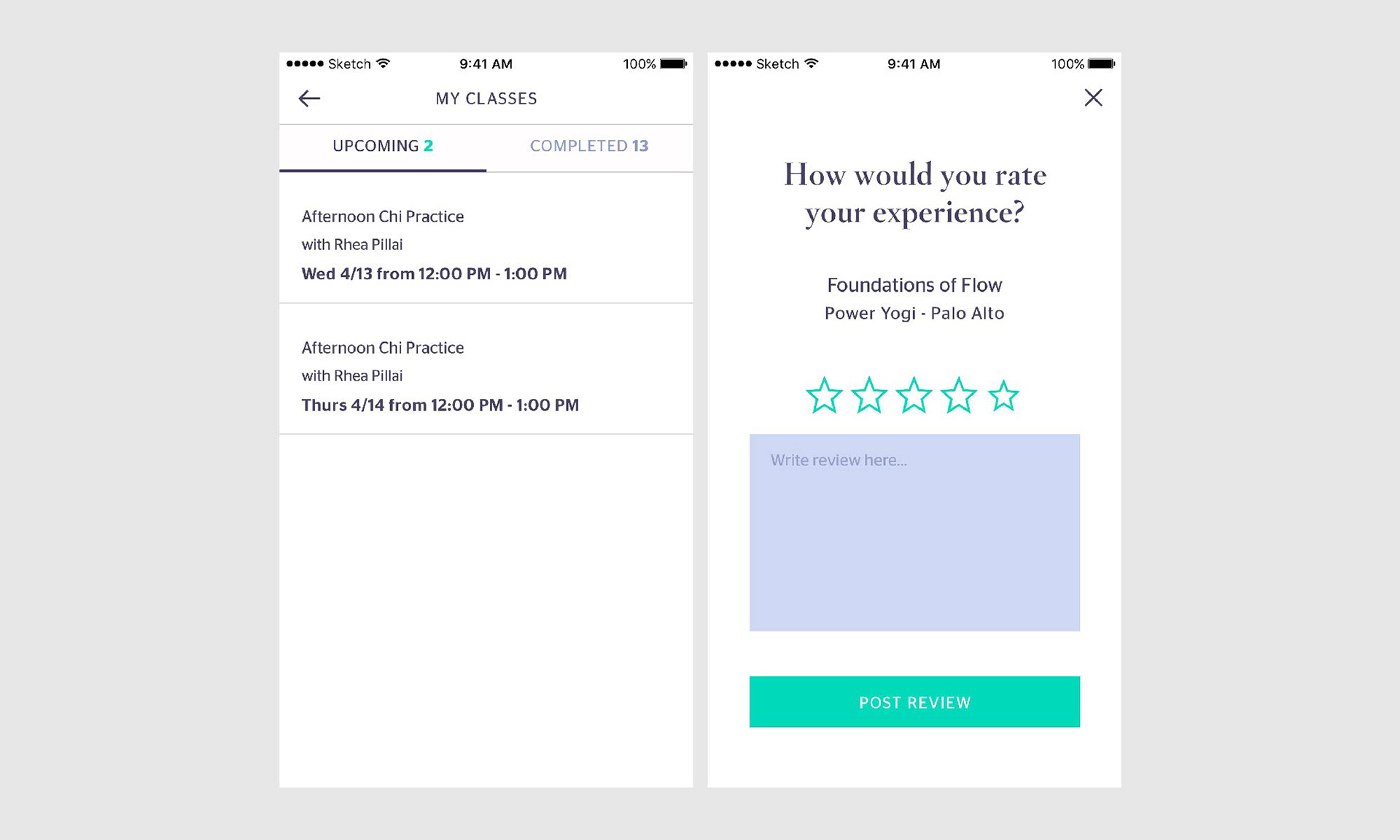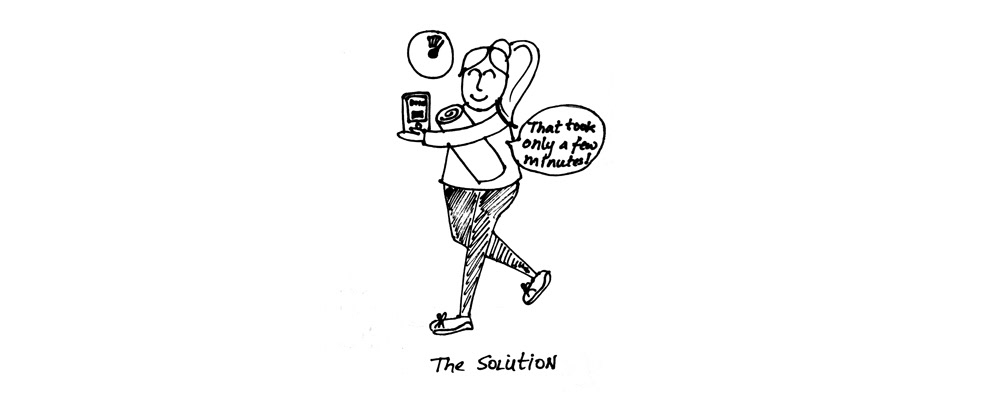 Brand experience + Style Guide
Yoga, Pilates and Barre have an inherently spa-like, pampering quality about them. I wanted to reflect that aspect in the branding and chose a soothing  spa-like color palette of lilacs, contrasting it with an energising accent of mint for focusing attention to the call-to-action items. Exhale curates the best studios - I used clean typography, including a Serif typeface to emphasize the attention to quality. The logo depicts a feather floating on a puff of air - like an exhale and continues the spa theme.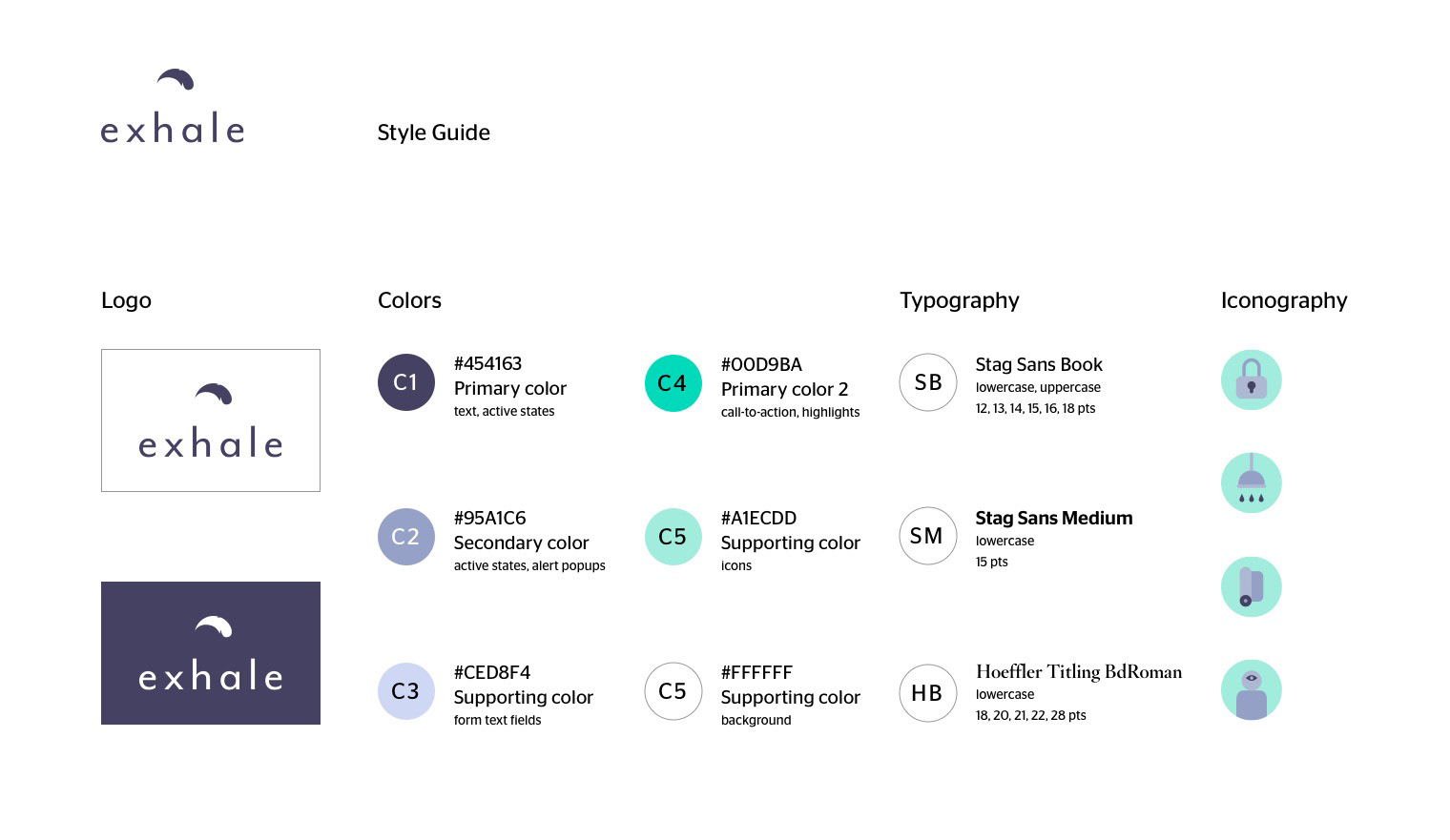 In conclusion
Product development and design process aren't linear, priorities shift over time. Often times, it's about finding the best solution at the most appropriate time within all the constraints. With Exhale, if the app develops a significant base of returning users, their needs could be different from what the app currently solves. For them perhaps scheduling classes ahead of time (calendering) and buying packs of classes at discount prices might be more important. Regular user testing and research is needed to shed light on user expectations. Ultimately developing a product is about testing hypotheses and iterating quickly to solve problems.